| | |
| --- | --- |
| French name | Punaise de lit |
| English name | Bed bugs |
| Latin Name | Cimex lectularius |
| Class | Insecta |
| Order | Hemiptera |
| Family | Cimicidae |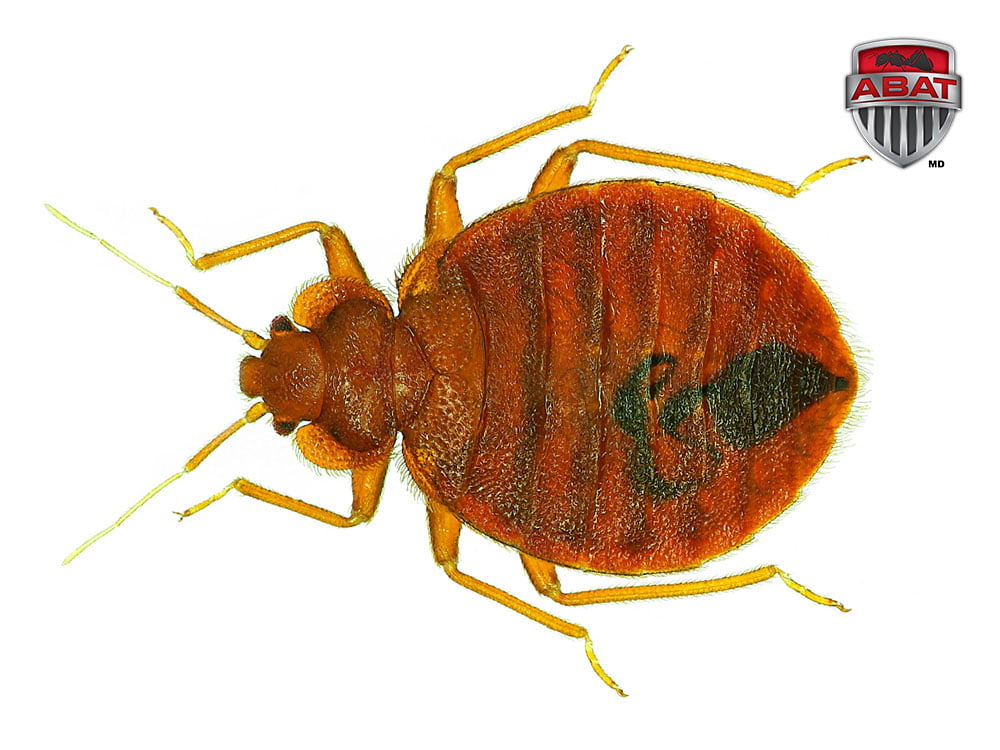 In your hotel or your vacation home in Útila, you wake up and see insect bites on your body and large red pimples that itch.
Are your sheets stained with small blood drops?
These signs cannot lie: you are probably the victim of an infestation of bed bugs.
While other insects like fleas or mosquitoes sting at any time during the day, bed bugs attack humans only at night time, while they sleep.
Bed bugs in the Islands of Bahía
Bed bugs, or chinche de cama in Spanish, are great travellers, and not surprisingly tourism has helped spread them all over the world.
Over the past twenty-five years, the Islands of Roatán, Útila and Guanaja have seen more and more tourism, vacationers being interested in diving and ecotourism. As a result, many hotels, hostels and hospidajes have opened.
The real estate market for vacation homes has also grown, doling out beach front areas amongst condos and private residences for vacationers or retirees.
As heat and humidity accelerate the proliferation of bed bugs, many tourists are invaded by them, transforming what was meant to be a restful holiday into a total nightmare; fighting these insects is particularly complex.
The Islas de la Bahía, with their beaches and coral reefs, project the image of a haven of peace … but they are infested with insects. Not such a great postcard after all…
Why are these Caribbean islands the prey of Cimex lectularius?
Aside from the hot and humid climates that help them reproduce, bed bugs are transported by the many tourists who involuntarily carry them in their luggage.
These insects infest:
Cabinets and beds in even the most prestigious hotels
High end rental homes
Taxis
Air planes, trains, cars, buses
Movie theaters
Hospitals and medical centres
Read the articles in french on this blog: http://www.punaisesdelits.ca/
Bed bugs like warm places like beds, but they also find their way into clothing, closets, hotel linen rooms, clothing shops, wood furniture, etc.
When housekeeping staff shake out and change the bed sheets, they only make the bed bugs flee to the neighbouring rooms. Good hygiene is not sufficient, meaning that bed bugs are found even in the most elegant residential areas.
There are no small infestations where bed bugs are concerned!
Once they've settled in your home, bed bugs grow very fast and are very difficult to eradicate. The extermination specialist must often return to verify that they have been completely eliminated.
Insecticides cannot, of themselves, totally eliminate them. The advice of an exterminator is invaluable and only his intervention can treat this scourge adequately.
Climatic factors
A room's temperature is a crucial factor in the speed at which bed bugs will develop. This pest takes three months to reach its adult stage in temperatures of 18°C, but only three weeks when temperatures climb to 30°C. It's not difficult to understand why tropical islands and hot countries are particularly vulnerable to this problem.
Pest control management experts receive calls to treat homes and hotels in the Islas de la Bahía, and particularly in the Island of Útila.
Own a vacation home? Here are a few tips from our experts
The idyllic Island of Útila is beautiful, heavenly place, synonymous with good living and relaxation. But your stay there might be spoiled and even turn into a nightmare if your villa is invaded by bed bugs.
To prevent this, a certified expert in pest control management can inspect your home in your absence or upon your arrival. If an infestation by insects is found, all the necessary measures will be taken so that you may fully enjoy your vacation.
Bed bugs seek food, namely blood in their case, which they detect in body heat and in the carbon dioxide (Co2) we produce while breathing. Females shelter in dark and warm spaces where they lay their eggs:
Mattresses, box springs and headboards of beds
Baseboards
Electrical outlets
Floorboards
Furniture
Wallpaper, carpeting
Wall cracks and crevices
Etc.
Preventing an infestation of bed bugs
Declutter the room infested by bed bugs
Install a special bed bug cover on the mattress and box spring
Wash sheets, pillows, clothing and children's stuffed animals, etc., at a temperature of 65°C
Caulk doors, windows, cracks, pipe work, cables, etc.
Regularly vacuum the contaminated room, then hermetically close the dust bag
Throw away infested sheets
Steam the mattress in order to kill the bed bugs and their eggs (bed bugs die at temperatures of -20°C and more than 65°C)
The objective is to reduce the number of areas where bed bugs could hide.
How to avoid having bed bugs in your luggage
It is well-known that suitcases are attractive to insects, as your clothing will provide them with a perfectly warm cocooning spot. Bed bugs can be found there, as well as cockroaches, mosquitoes, fleas, etc.
When it's time to leave the hotel, vacationers don't always think to inspect their luggage; what's more, it requires an expert's eye to detect any intruding insects. For this reason, our company is specialized in luggage inspection and gives good advice to avoid bad surprises upon your return home from vacation.
An inspection is carried out by our expert and your effects are carefully wrapped in air tight bags, so that no room is left for the insect. We already collaborate with many hotels such as hospidajes and cabañas, who propose this indispensable service.
We also offer to have our team inspect your room before you settle in your hotel, so that you can enjoy peaceful nights without being bitten.
Bed bugs can live for weeks without food, meaning they easily survive long trips during their migration.
Description and reproduction of bed bugs
They are brown in colour, with a flat and oval shaped body. They go from brown to reddish when they've had a meal of someone's blood. The adults measure 5 to 8 mm in length.
Bed bugs are able to reproduce when they have a steady blood supply at their disposal to feed on. Beds are therefore an ideal residence for them. They have a life span of about 5 to 9 months but can also lapse into a dormant phase, during which they can survive for over a year without food.
Females lay 3 to 8 eggs a day, representing a total of 200 to 500 eggs per female. The eggs hatch within two weeks (10 days on average). The larvae go through five growth stages before becoming adults, which takes about five weeks. Bed bugs require blood and a warm ambient temperature in order to develop.
Do bed bugs transmit disease?
Entomologists agree that bed bugs do not currently transmit any disease. On the other hand, being infested by them generates anxiety, loss of sleep, depression, or burnout.
There is also a risk of anemia in cases of multiple bites drawing blood over a long period of time.