| | |
| --- | --- |
| French name | Termites souterrains |
| English name | Subterranean Termite |
| Latin Name | Reticulitermes spp. |
| Class | Insecta |
| Order | Blattodea |
| Family | Rhinotermitidae |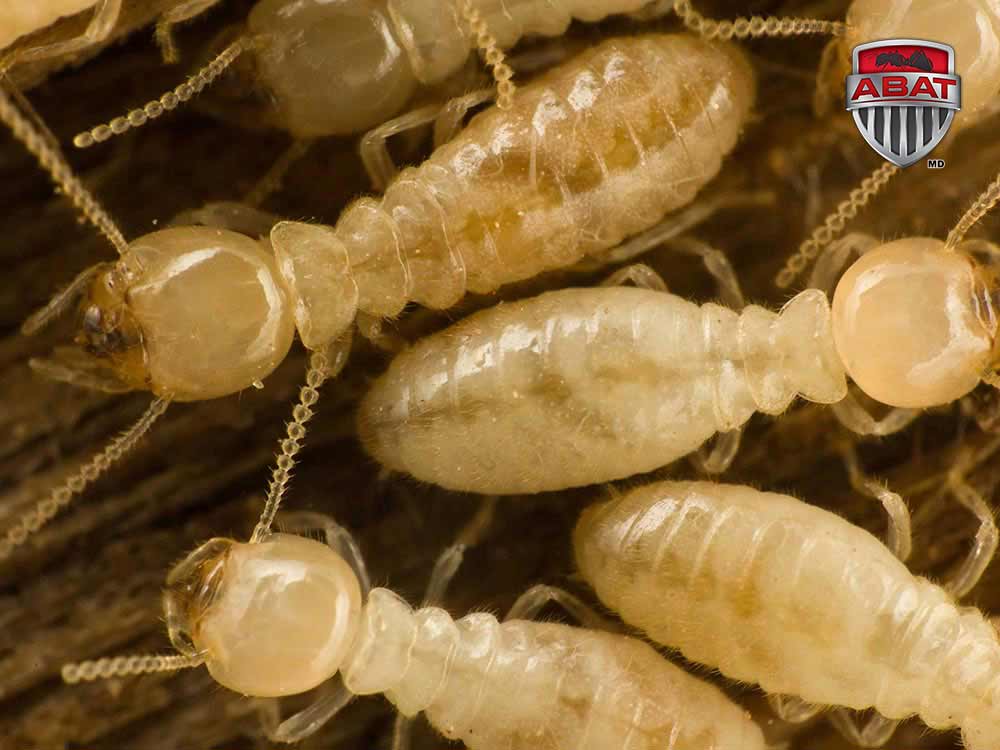 Subterranean termites are part of the family Rhinotermitidae
Characteristics of the Subterranean Termite
Size
Subterranean termites vary in size according to their function. Workers are 3 to 9 mm long. Soldiers are usually the same size as workers but are distinguished by their oval-shaped head and powerful, curved mandibles. The reproductive termites measure 10 to 15 mm in length.
Color
The subterranean termite's colour also varies according to its caste. Workers are a yellowish to off-white colour. Soldiers are the same colour as workers, except for their brown, oval-shaped head. Reproductive termites of this species are brown to blackish in colour
Behaviour
There are 3 main categories of subterranean termites:
Workers
Soldiers
Swarmers (males and females)
These three castes have specific roles within a colony and each has their own particular characteristics in order to accomplish their task. Some termites have eyes, others do not.
Check for more species of termites 
Way of Life the Subterranean Termite
Worker termites are small wood-boring insects that shred wood to obtain its cellulose. They live their entire lives in dark tunnels and therefore have no eyes. However, they can still recognize light and shadow. If they find themselves exposed, they very quickly return to their dark tunnels.
The Habitat in Útila
As their name indicates, subterranean termites live in and under the soil. As the colony grows, secondary queens begin to lay eggs, thus increasing the colony's size.
Once the colony is about 3 to 5 years old, it begins to produce male and female winged termites called swarmers. These termites have fully developed eyes as they must leave the safety of their dark tunnels to mate and establish new colonies.
Of the three categories, swarmers are the only ones having the ability to see.
Controlling proliferation
At the start of an infestation, termites cause only subtle damage that is difficult to detect, event by pest control experts. Over time, these wood-boring and wood-eating insects can cause enormous damage in buildings. They weaken the structures and in extreme cases can even cause structures to collapse. Exterminators are specialists who are familiar with the way of life and behaviour of termites. They know how to eliminate them efficiently and durably.
Treatments used can include bait traps or a treatment directly on the wood using an insecticide specifically for wood-boring insects.
Here are a few integrated solutions and prevention methods to avoid having termites in your home:
Prevent the accumulation of water in the foundation of your home.
Install eavestroughs and make downspouts to allow water to flow naturally out of your home's structure.
Ensure crawl spaces are well ventilated to minimize humidity.
Keep trees, shrubs and broadleaved trees around the house well maintained so that they don't touch the house.
Do not stack or accumulate wood near your home.
If you detect termites in your home or if you suspect their presence, contact a pest control professional without delay to obtain efficient, integrated pest management options that will deal with the problem at its source.