| | |
| --- | --- |
| French name | Fourmi manioc |
| English name | Leafcutter ant |
| Latin Name | Acromyrmex and Atta |
| Class | Insecta |
| Order | Hymenoptera |
| Family | Formicidae |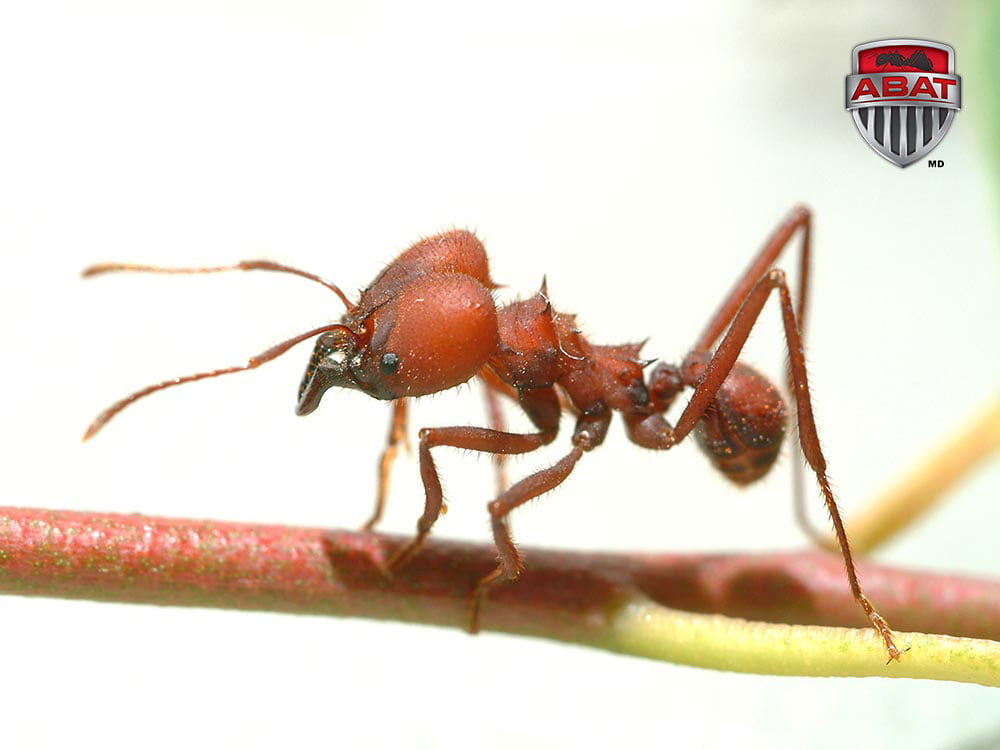 A native and at times invasive insect, the leafcutter ant (also called leaf-cutting ant) comes from Central and South America.
They are called leafcutter because they cut up vegetation before transporting it back to the colony. The cut-up leaves are used to cultivate a type of fungus of the genus Leucoagaricus (Agaricus), on which the ants feed.
These fungi are cultivated in underground galleries that can go up to two metres deep. The entire colony relies on these fungi for food.
If you're not sure about the kind of ants that are invading your home, please check these articles
Acromyrmex octospinosus
The leafcutter ant was introduced into Guadalupe as a consequence of rising imports of merchandise and increased tourism.
This insect also came to Las Islas de la Bahía (Útila, Guanaja and Roatán), and its colonies proliferated there.
New colonies are formed through swarming of winged ants (males and females), and eventually they invade homes, villas, residential areas, businesses, restaurants and hotels (even the most prestigious).
It is easier to control or prevent swarming when a property is inhabited, but holiday accommodations need regular follow-ups to avoid an infestation.
Damage caused by leafcutter ants
The ants' presence leads to deterioration and will at times cause damage to gardens and crop fields.
You own an apartment or a villa in Útila
Special attention should be given to the formation of anthills in your vacation home.
This polyphagous species eats large quantities of everything:
Crumbs on the ground
Trash residue in trash bins that are not closed tightly, have not been emptied for a long time or not cleaned properly
Food stored in kitchen cupboards
The cat or dog's food pellets
Plants and leaves in the garden
The leafcutter ant is not a threat to humans but it can use its mandibles to pinch, which will be painful. Beware, however, as this invasive species can transmit germs and bacteria onto your food, or destroy woodwork and electrical cable as a result of their constant passing.
If you suspect their presence, your first reflex should be to contact an expert in pest control management for a reliable assessment and diagnostic.
Are you a tourist in Honduras?
If you notice ants in your hotel room or rented villa, the owner must be advised of this so that he may act quickly. For your part, you can call on a pest control service to inspect your luggage, as ants can sneak into your clothing and start a colony when you return home.
A competent expert can inspect your suitcases and bags (inside and out) and in case of an ant infestation, can offer solutions that will work.
A few tips from an exterminator who is an ant specialist
First, efforts must be made to find out what is attracting the ants into your home. The source is often food in the kitchen cupboards, dead animals in some lost corner or your pets' food forgotten in a room.
Recommendations:
Store your food (pasta, rice, honey, sugar) in air tight containers. Insects, ants and also cockroaches are attracted by the smell of sugar and starch.
Caulk all holes, cracks and baseboards, and if possible seal the routing of air ducts and pipework, etc.
Clean the kitchen, the floor, the furniture, behind household appliances. You can use natural ant repellants such as vinegar or lemon.
Don't let dirty dishes pile up in the sink
Inspect your indoor plants and your garden to see if ants have taken up their abode there
Check for any leaking or seeping water, or if there's an unusual heat source somewhere, as heat and moisture (humidity) attract insects
Regularly change your pets' food bowl
Description and habits of leafcutter ants
There are two types of leafcutter ants:
The genus Atta
The genus Acromyrmex
Size:
The queen can reach up to 2 cm in length
The workers measure from 3 to 16 mm
The males can reach up to 18 mm in length in the case of the Atta cephalotes
Description of workers:
Workers are light brown to very dark brown (almost black) in color and have more or less developed spines on their body.
Each colony is made up of two castes:
The queen, in charge of reproduction
The workers, in charge of the colony's growth
The worker caste is composed of three sub-castes. Each ant has a specific function:
Small ants care for the fungi and larvae
Medium-sized ants remain in the nest to cut the leaves for the small ants to incorporate into the fungi
Large-sized ants who look for leaves outside the nest and bring them back to the medium-sized ants
As for the males, their sole function is reproduction and they die shortly thereafter.
A modern, well organized habitat
Anthills have been extensively studied and are worthy of architects' finest constructions.
There are landfills/cemeteries to eliminate waste and avoid contamination. There are "garbage collector" ants who remove waste from the nest.
The cultivated fungi have bacterial and anti-fungal properties; they even secrete an antibiotic that protects the eggs, larvae and nymphs from bacteria.
Galleries ventilate inside the anthill during the hotter hours of the day. No need for an air conditioning system with these ants!
Reproduction of leafcutter ants
The queen may lay hundreds to several thousands of eggs each year.
A queen may live up to 17 years!
The nest can reach an impressive size after a few years. The largest known nest had a size of over 600 square metres!
Depending on the species, population size can vary from 2000 to over 8 million ants.
It's easy to understand why an infestation of leafcutter ants can be a problem for a home, a garden or in a business. A treatment applied by an experienced exterminator is necessary to deal with the problem.