| | |
| --- | --- |
| French name | Termites des bois humides |
| English name | Dampwood Termites |
| Latin Name | Zootermopsis spp. |
| Class | Insecta |
| Order | Blattodea |
| Family | Archotermopsidae |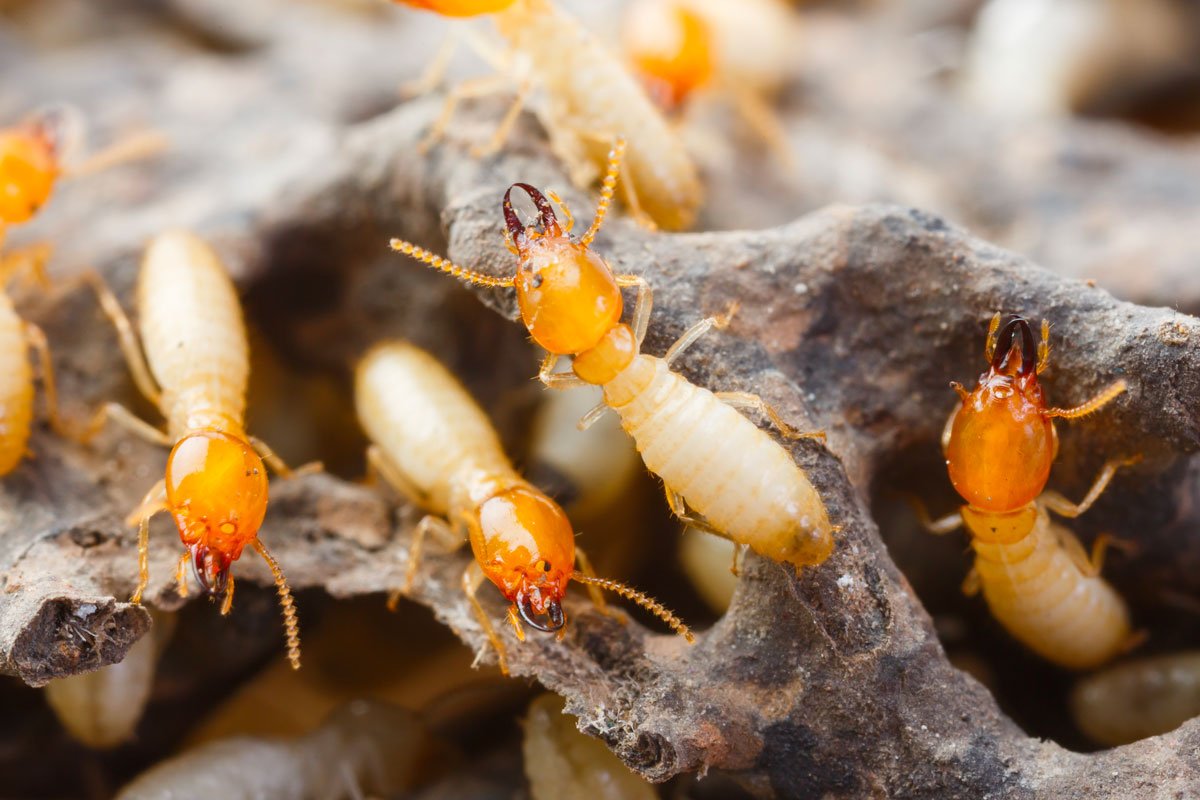 Dampwood termites are part of the family Archotermopsidae.
Characteristics of Dampwood Termites
Size
Zootermopsis are the largest termites in North America.
King and queen termites measure from a half to 5/8ths of an inch (12 to 15 mm), but with wings they can measure over an inch in length (25 mm).
Workers can also be up to 5/8ths of an inch (15 mm), whereas soldiers may reach ¾ of an inch in length (19 mm).
Colour
Dampwood termites are generally brown in colour, but this can vary to a shiny black or even rust coloured on the abdomen. Workers are cream-coloured.
Behaviour
This species requires regular contact with water in order to survive and develop. This makes them very different from their cousins (The Drywood termites).
Check for more species of termites 
Way of Life and Habitat of the Dampwood Termite
Dampwood termites get their name from damp wood because they live and establish their colonies on rotting wood on the ground. These termites are frequently found along the Pacific Coast and in Western states such as California, Idaho, Montana, Nevada, Oregon and Washington. Some less harmful species can also be found in the South-Western United States and Florida.
Termites are a wood-boring pest that has significant economic effects because they cause so much damage. They infect damp spaces like washrooms, kitchens, basements or any areas having a problem with humidity or not properly drained.
Dampwood Termite Reproduction
A colony begins with a swarm, meaning winged male and female termites that fly and establish a colony on damp wood. The females lay a few eggs during the first year. If favourable levels of humidity are reached, colonies can grow large very quickly.
Colonies are usually of a modest size, with larger ones supporting up to 4,000 individuals.
While they can sometimes be confused with winged ants, reproductive termites have straight antennae, four pairs of wings of equal length and a straight body.
Signs of a Dampwood Termite Infestation
The damage they cause is different from the damage caused by underground termites. Dampwood termites feed only on rotting wood, and they may be found in the basement. The damage they cause is therefore more significant because their presence is not easily detectable.
Controlling Dampwood Termites
Humidity is an essential condition to their development. Solving moisture problems, water leakage issues and removing rotting and worm-eaten wood are ideal solutions to avoid attracting this species of termites.
Dampwood termites can live entirely from the wood that is feeding them and which they infest with their droppings. Their presence may go unnoticed for several years before they are detected. Their digestive system allows them to digest wood, wood stumps, dead wood, etc.
It is sometimes necessary to treat wood directly with termiticide; in that case it is recommended to use the services of a professional who specializes in the control of termites.
Advice from a Pest Control Expert
If you find termites in your home, the number one priority is to address any moisture problem. Most termites will not survive the elimination of moisture. If in doubt, contact an exterminator specializing in pest control for an efficient and durable solution.